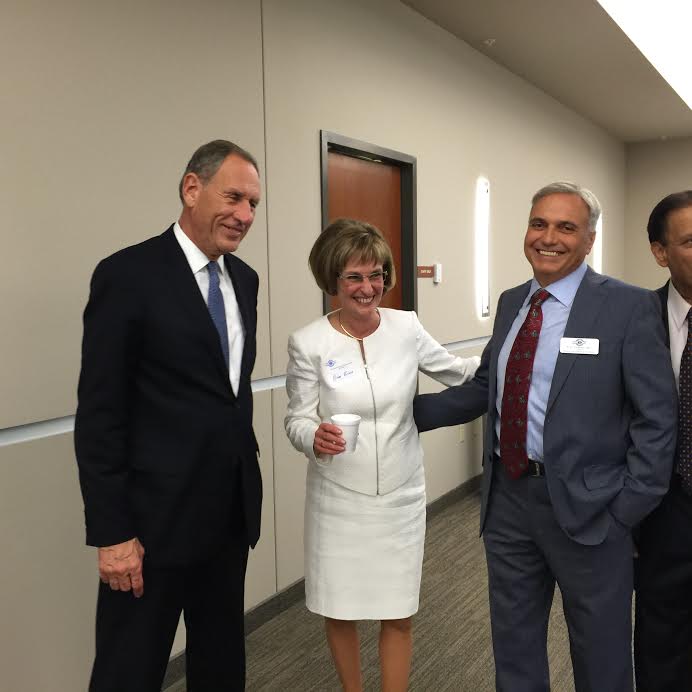 MyHIPAA Guide Publisher Diane Evans with Dr. Toby Cosgrove, CEO of the Cleveland Clinic (left), and Dr. Waleed Nemer, president of Summit County Medical Society. Ms. Evans introduced Dr. Cosgrove before a Medical Society audience.
Diane Evans is Publisher of MyHIPAA Guide, a consultancy and information service that gives organizations a clear and human-centered process for HIPAA compliance. Diane travels around Ohio and beyond, helping organizations shore up their privacy programs, and in cases of breach, she leads a team that helps organizations prepare for federal inquiry. She also leads workshops in an interactive curriculum developed by the MyHIPAA Guide team. Recent workshop sponsors include the Ohio Provider Resource Association, the Ohio Health Care Association and the Indiana Association for Rehabilitation Facilities. To inquire about speaking engagements or workshops, email Diane at [email protected].
Diane is author of the MyHIPAA Guide Compliance manual, available on Amazon.com. Her guest viewpoints have appeared in the Akron Beacon Journal and in Compliance Today, the peer-reviewed journal of the national Health Care Compliance Association. She also contributes to the blog of the Center for Health Journalism, University of Southern California, Annenberg, where she is a member. She has authored accredited online courses on HIPAA compliance, available through Pedagogy Inc., based in Troup, Tx.
Diane spent more than 25 years as journalist for the Akron Beacon Journal, the flagship paper of the former Knight Ridder Newspapers. She contributed to a select package of stories that won the Beacon Journal a Pulitzer Prize, and she later wrote a wellness column with weekly international distribution over Knight Ridder's wire service.